NHS Flat Roofing Contractor at Cambridge Blood Centre
NHS Flat Roofing Contractor renewal project
NHS Flat Roofing Contractor, Acclaim Roofing Contracts Ltd carried out an extensive 7 week renewal project at the Cambridge Blood Centre.  Our works included the provision of access scaffold and temporary roof edge protection together with a separate scaffold loading platform for the temporary relocation of vital air-conditioning units to allow the roofing works to be progressed.
The air-conditioning units were decommissioned, moved to their temporary location and recommissioned to ensure minimal disruption to the Blood Donor Centre's operational requirements. The existing roof coverings were stripped and a new ICOPAL flat roof covering system installed including insulation.
Having completed all the roofing works, the air-conditioning units were relocated and recommissioned and tested, again, with minimal disruption to the Centre's operational requirements. A permanent free-standing handrail was also installed to ensure safe access for the ongoing maintenance of the roof-based M&E and new roof covering. 
NHS Flat Roofing Contractor Project Gallery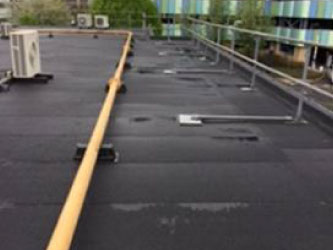 I am pleased to recommend Ian's team at Acclaim Contracts for roofing work. I have completed a number of successful projects with Ian and his team and found their quality of work to be excellent. With most projects being in sensitive education settings, communication with the client is critical. Ian always takes a strong personal interest in projects which helps everyone.
Robert Gould
I was really pleased with the company. The job ran really smoothly. Nas was our main line of communication and he was very professional and helpful. The job was completed on time, and there was minimum disruption to the school despite it being such a big job.
In terms of after-service, the company have responded very promptly to any queries / snagging issues and resolved them immediately. I think the service given by Acclaim has really been good – particularly when I compare it to the experiences that colleague Heads have had having similar jobs done by different firms.
Jo